1755 marks the year of the horror when a giant earthquake destroyed Lisbon. 2017 will mark the year of 
Moonspell's
 new magnum opus titled 
"1755"
, the 13
rd 
studio record by the Portuguese Dark Metal pioneers, which will see the light of day on November 3
rd
 with
Napalm Records
.
It's the musical version of the year when the earthquake wrecked the band's hometown, a dark adventure into medieval landscapes: Breathtaking and completely earthshaking!
Naturally this album comes and is sung in Portuguese and will outclass all standards you have ever heard from Moonspell before.Just recently Moonspell have unveiled a first snippet of their song "Todos Os Santos" ( engl: "All Saints" ), now the band unleashes the official music video and full track.

Statement of Vocalist Fernando Ribeiro about the upcoming album:

"Even tough this all happened in 1755, there are still a lot of world and country leaders that think themselves as saints, with a sacred mission, chosen by any God. What really happens is that they save no one but themselves and this video showcases the message of the song: as in 2017 or 1755 all saints will not be enough to save us." 
Watch the brand new video for "Todos os Santos" right HERE courtesy of Metal Injection.
Coming as CD, LP Gatefold and Digital Download,
"1755"
 is available for pre- order 
HERE!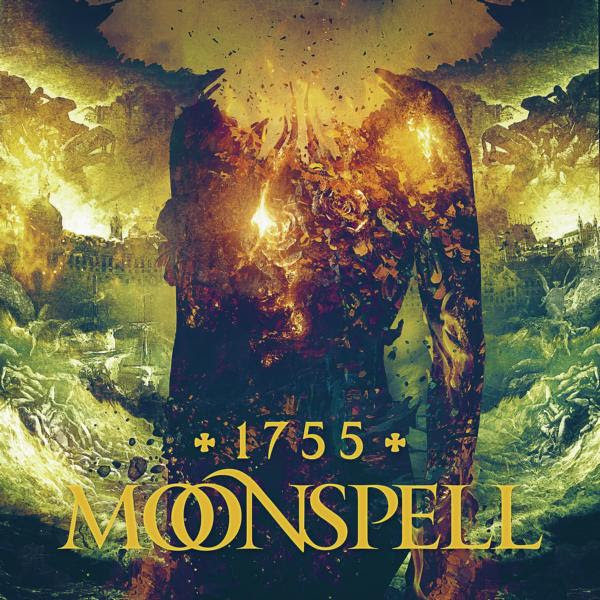 Cover Artwork by: João Diogo
Track list:
1. Em Nome Do Medo
2. 1755
3. In Tremor Dei ( featuring Portuguese guest vocalist Paulo Bragança! )
4. Desastre
5. Abanão
6. Evento
7. 1 De Novembro
8. Ruínas
9. Todos Os Santos
10. Lanterna Dos Afogados
To celebrate Moonspell's upcoming release, the band will be heavily hitting the road this year!
Dates for "EartShaking 1755" tour:
30.10.17 PT – Lisbon / Lisboa Ao Vivo (Special album release show)
31.10.17 PT – Lisbon / Lisboa Ao Vivo (Special album release show)
01.11.17 PT – Porto / Hard Club (Special album release show)
03.11.17 ES – Santiago / Malatesta
04.11.17 ES – Bilbao / Santana 27
05.11.17 ES – Valencia / Rock City
06.11.17 ES – Barcelona / Salamandra
07.11.17 ES – Zaragoza / CC Delicias
08.11.17 ES – Madrid / Sala Caracol
with Cradle of Filth:
18.01.18 CZ Prague, Roxy
19.01.18 CZ Ostrava, Garage
20.01.18 SK Bratislava, MMC
21.01.18 HU Budapest, A38
23.01.18 PL Krakow, Kwadrat
24.01.18 PL Warsaw, Progresja
25.01.18 PL Gdansk, B90
27.01.18 DE Leipzig, Hellraiser
28.01.18 DE Berlin, C-Club
29.01.18 DE Hamburg, Grünspan
30.01.18 DE Bremen, Schlachthof
01.02.18 NL Tilburg, 013
02.02.18 NL Haarlem, Patronaat
03.02.18 DE Osnabrück, Hyde Park
04.02.18 DE Cologne, Essigfabrik
06.02.18 DE Bochum, Zeche
07.02.18 DE Frankfurt, Batschkapp
08.02.18 DE Nürnberg, Hirsch
09.02.18 DE Saarbrücken, Garage
10.02.18 CH Pratteln, Z7
12.02.18 IT Milano, Live Club
13.02.18 IT Bologna, Zona Roveri
14.02.18 FR St. Etienne, Le Fil
15.02.18 ES Barcelona, Salamandra 1
16.02.18 ES Madrid, Mon Live (former Penelope)
18.02.18 FR Limoges, CC John Lennon
19.02.18 FR Paris, La Machine Du Moulin Rouge
20.02.18 FR Lille, Le Metaphone
21.02.18 FR Besancon, La Rodia
23.02.18 DE Stuttgart, LKA Longhorn
24.02.18 DE Mannheim, MS Connexion Complex
25.02.18 AT Dornbirn, Conrad Sohms
26.02.18 AT Wien, Simm City
27.02.18 DE München, Backstage Werk
01.03.18 BE Antwerp,Trix
02.03.18 DE Flensburg, Roxy
03.03.18 DK Odense, Posten
04.03.18 NO Oslo, Vulkan Arena
05.03.18 SE Stockholm, Fryshuset Klubben
Links:
Webisite:http://www.moonspell.com
Facebook:https://www.facebook.com/moonspellband
Twitter:https://twitter.com/moonspell
Facebook of the label:https://www.facebook.com/almamaterrecords
Website 2:www.moonspell.rastilho.com
Fabebook of the second label:www.napalmrecords.com
Check out the lyric video for "Todos Os Santos" here, enjoy it: