Thy Antichrist is an existentialist black metal band showcasing extreme elements that have been making tidal waves in the underground metal community since 1998 and has been building an important fan base around the world.
A brand new full-length album titled "Wrath of the Beast" is already scheduled for an early 2018 release.
In 2016, these US-based Black Metallers found a home with the reputable Extreme Management Group, as well as joined the roster of a well-known booking agency, Continental Concerts. With a stout history and commanding presence, Thy Antichrist has tremendous potential for further growth going with the recent worldwide signing with Napalm Records! Napalm Records is more than proud to welcome such a hardworking, ambitious and promising band to the roster and to unveil first album details of the bands Napalm Records debut "Wrath Of The Beast"!
Statement of the band about the new upcoming album :
"We read Aleister Crowley's wicked spell to awake an ancient evil pharaoh from the ashes of time, to condemn this modern world of chaos by the cursed hands of man. We invoke the Wrath of the Beast, the eclipsing star that rises from the east!"
Just when you thought you had seen and heard everything, Thy Antichrist has risen. Find album artwork, full track listing and available formats below: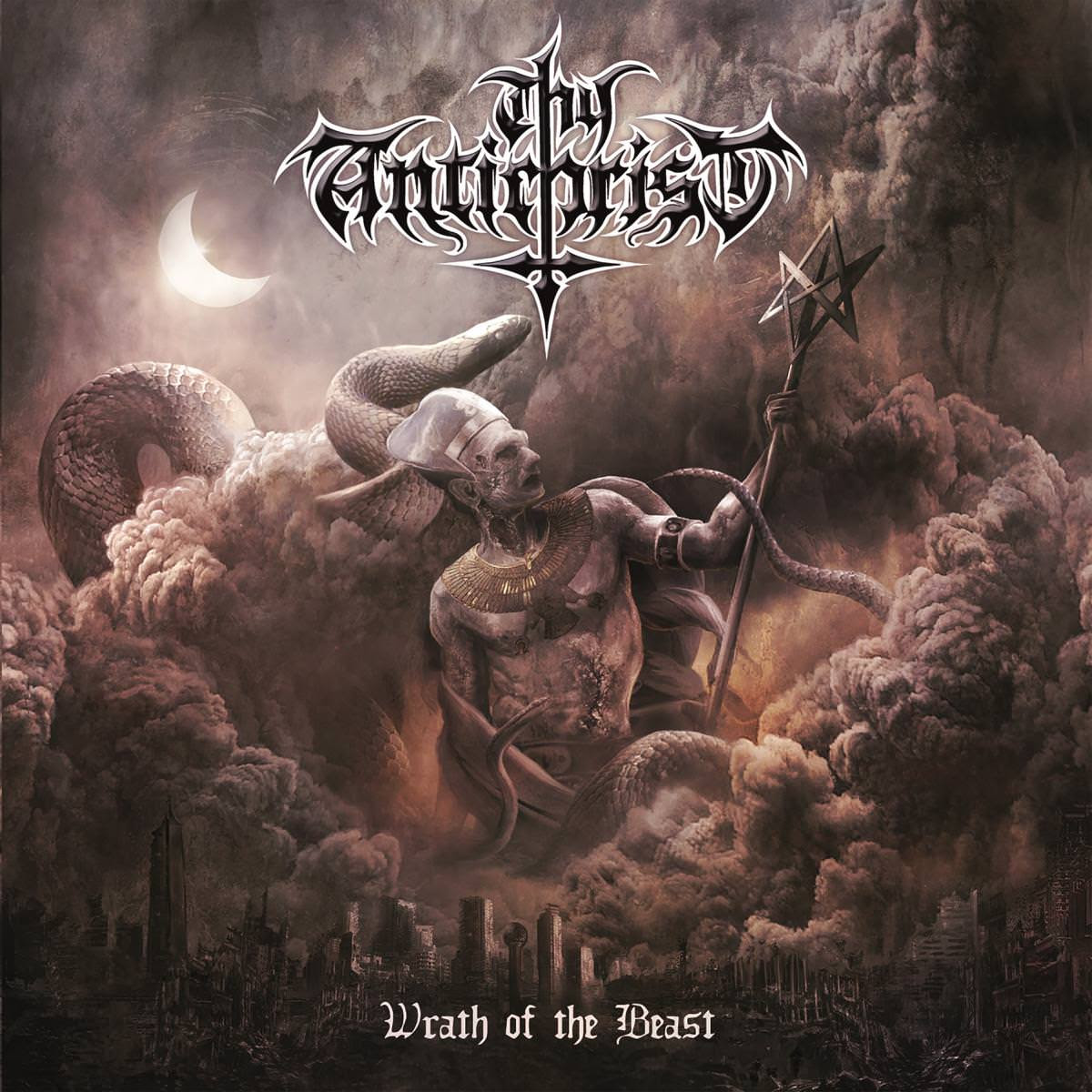 The band has created a teaser for the new album. Take a look and listen at it
HERE
.
Tracklist:
1. Desolation
2. Metal to the Bone
3. The Great Beast
4. A World Burnt to Ashes
5. No Place Like Hell
6. Nightmares
7. Crown of Lies
8. Skeletons of Disgrace
9. Walking Through the Soul
10. The Last Breath – Instrumental Outro
"Wrath Of The Beast" will be available as:
1 CD Jewel Case
1LP Gatefold
Digital Album
Get your hands on
"Wrath Of The Beast"
HERE
.
Thy Antichrist has handcrafted a sui generis style into their live performance and music respecting the old traditional metal influence of different metal genres such as thrash metal, heavy metal, death metal and of course the Black Metal touch. The band has taken to the masses with notable festival appearances with some of metals biggest names. The band has without a doubt connected with fans and created a loyal fan base eager to see what's coming next. Keep your eyes & ears open!
Thy Antichrist on Tour with Septicflesh and Dark Funeral:
2/22: Los Angeles, CA @ The Regent
2/23: San Diego, CA @ Brick By Brick
2/24: Las Vegas, NV @ Beauty Bar
2/25: Oakland, CA @ Metro Opera House
2/26: Portland, OR @ Rock Hard PDX
2/27: Seattle, WA @ Studio Seven
3/1: Denver, CO @ Bluebird Theater
3/2: Kansas City, MO @ Riot Room
3/3: Ringle, WI @ Q & Z Expo Center
3/4: Chicago, IL @ Reggie's
3/5: Columbus, OH @ Alrosa Villa
3/6: Lakewood, OH @ The Foundry
3/7: Detroit, MI @Harpo's
3/8: Toronto, ON @ Mod Club
3/9: Montreal QC @ L'Astral
3/10: New York, NY @ Gramercy Theater
3/11: Worcester, MA @ Palladium
3/12: Baltimore, MD @ Soundstage
3/13: Spartanburg, SC @ Ground Zero
3/14: Atlanta, GA @ The Masquerade
3/16: Houston, TX @ White Oak Music Hall
3/17: Ft Worth, TX @ Rail Club
3/18: Austin, TX @ Come and Take it Live!
3/20: Phoenix, AZ @ Club Red
Thy Antichrist Line-up:
Antichrist 666: Terrifying Vocals of Tragic Existence and Tragic Poetry.
Abyssus: Six Strings of Human Suffering.
Frost Giant: Bassist of Cold and Tragic Whisperings.
Oricuss: Apocalyptic Thunders of Chaos. Drums.
Discography:
2002: POSSESSED BY MY OWN SATAN – Colombia
2004: WICKED TESTIMONIES – Colombia
2005: SATAN ESCAPES FROM HELL – Colombia
2006: POSSESSED BY MY OWN SATAN – Single – Colombia
2006: BLASFEMIAS – Cover Single – Colombia
2008: HUMAN PANDEMONIUM – France
2008: TEN YEARS OF TRAGIC HERESY (DVD) – Colombia
2008: UN TITAN LLAMADO NUTIBARA – Colombia
2009: WICKED TESTIMONIES (Re-Issue) – Colombia
2011: BETWEEN GOD AND THE DEVIL SINGLE – Colombia
2015: SATAN ESCAPES FROM HELL + WICKED TESTIMONIES (Limited Edition Cassette Deluxe Box Set) – Canada
2015: UNHOLY VICTORY – Split – Mexico
2016: WICKED TESTIMONIES (Re-Issue) – Brazil
2016: WICKED TESTIMONIES (Limited Digibook Edition) – Colombia
2016: WICKED TESTIMONIES (Limited Digipack Edition) – Mexico
Links:
Check out the teaser for the new album here, enjoy it: