In this interview with Guitarist Michael Denner (Ex-King Diamond, Mercyful Fate), Demon Reports was taking about Mercyful Fate didn't invite him to the upcoming reunion 2020, about the Vocalist Chandler Mogel of his new band Denner's Inferno, about his and the new band's debut EP "In Amber", about what he would change in a Mercyful Fate's sound back then. Check out more exclusive details, below:
1. Tell me about your upcoming new debut release "In Amber", why did you decide to form your new band Denner's Inferno, the musical influences of it, and how do you came up with the ideas for the songs on the release, as well?
The Idea with Inferno was to make a full blooded band playing the music-style that inspired me from the very beginning of my career as a guitarist, and to add some new vibes to it, the style is Heavy rock with a twist of 70's progressive. I've been working with these songs for some years now, and finally found musicians who could deliver what i had in mind.
2. You weren't invited to the reunion of Mercyful Fate 2020, what's the main reason for this to happen, and were there other issues not just this one before with Mercyful Fate?
I wasn't invited because they did not want me there,simple as that , and they knew it from day one.
3. How did you choose the Vocalist Chandler Mogel for the Denner's Inferno, are you satisfied with his vocals/singing style?
Chandler is exactly the vocalist i was looking for this time, I did not want a Metal singer for this album, most of the albums I've done the last 40 years have been with metal singers, this time i needed something different to fit the songs  Chandler can sing anything, he have done many Metal/Hard Rock albums before this, but don't compare him to King Diamond or Sean Peck(Denner Sherman) these guys are unique but far away from what i needed this time.
4.In the early days King Diamond music was mostly influenced by Satanism , what are you thoughts about it, were did the inspiration for it come from, also how did you felt about it, as well?
In the early days his lyrics was about fights,women and bikes, but slowly his interest for The occult took over , we spend many hours talking bout this matter, my parents did spiritualism when I was a kid, and it scared the shit out of me, so when King moved into that stuff I was putting it behind me.
5. Which album from Mercyful Fate era is the most favorite one to you, and of course why?
Melissa is my all time favorite, the band was hungry and ready to take th World by storm, we had tons of songs to choose from and had a very strong friendship between us when we did that album, things went sour just one year after this with Hank and King.
6. If the guys from Mercyful Fate change their mind and call you to join they on the reunion, would you accept it, maybe?
This is speculation, and I'm sure that they would never even consider, cause that would make them look like fools.
7.When are you going on a tour with your new band, also on which date will the tour begin, if you are planning to go on a tour, also which set-list will be included for the upcoming tour?
I'm Planning a European tour for spring 2020 right now,of course to promote the new album but also with a few classics from my past.
8.Do you still have a great relationship with Guitarist Hank Shermann, tell me about the health of Bassist Timi Hansen, as well?
The issue with Hank is something to emotional to talk about at this point, he was a lifelong friend. Timi is a fighter and I prey and cross my fingers that he will win the battle with cancer.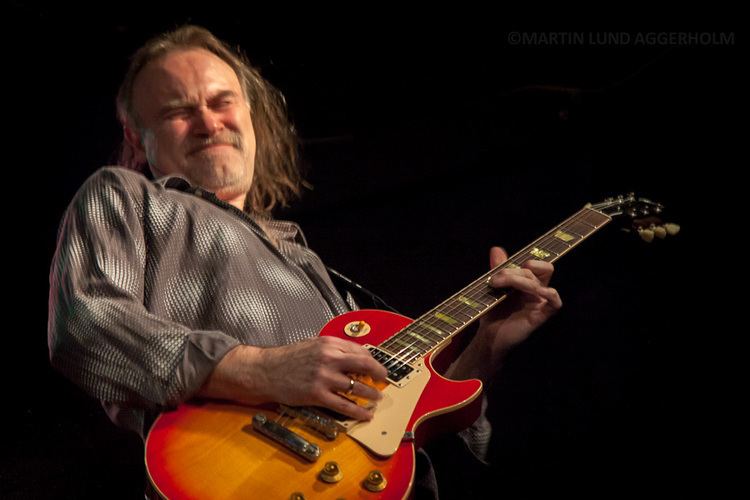 9.Do you think that you will have success with this upcoming new EP "In Amber", like you did with "Don't Break The Oath" with Mercyful Fate?
The time is so much different now, so many bands to choose from, DBTO stood out as something very different back then, so to compare these two things is irrelevant, the only thing these two have in common is my signature work on the guitar side.
10. Are you going to record a new release with your new band, and if you do, is it going to be different than this one?
The EP was just a taster before the album due for release here in November, the difference is even more colors on the palet, and yes I'm working with new songs for the next one to be released in 2020.
11. Would you change something about Mercyful Fate's sound, lyrics back them, if you had a chance to do it?
Yes I would love to remix Melissa and DBTO, the guitar sound is a bit weak and distant with some odd effects on it, but even with these matters, the albums stand strong to this day as it stands.
12. Do you have a message for your fans?
Keep the spirit positive for the Mercyful fate legacy. I'm sure that they will do good with this reformation even though I'm not part of it, looking forward to see you on tour in 2020.
Links:
Facebook: https://www.facebook.com/DennersInferno/
Check out their latest music video for the song "Fountain of Grace", here:
Interviewed by: Vladimir Cincovic
---
My name is Vladimir Cincović. This magazine was created out of love for music. Support the magazine Demon Reports, We need your support.