One of the Journalist's from Demon Reports magazine Vladimir Cincovic had an interview with the Guitarist Dorian Pavlović from Croatian metalcore masters Cold Snap. He talked with Dorian about his thoughts  about the Covid-19 situation, the meaning of the LP "World War 3", about the possible new upcoming record, what the band would like to cover from other artists/bands songs or the full record from one of them, more exclusive details, below: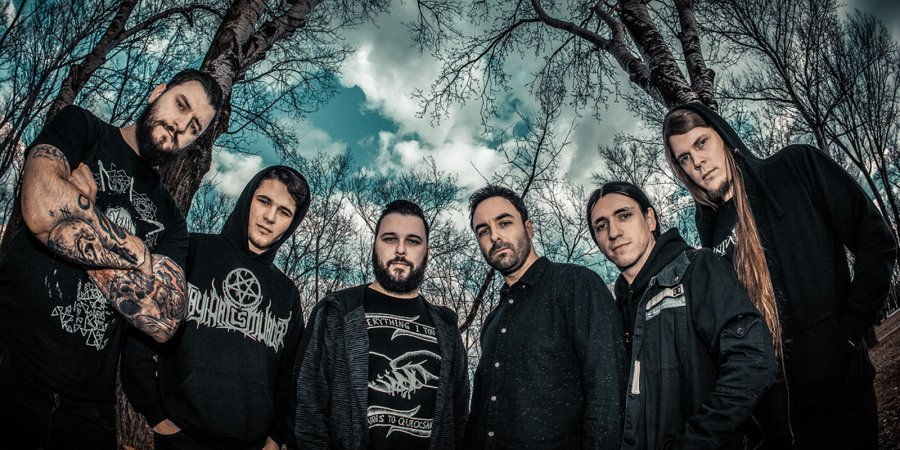 1. You released the EP "Aether" in 2020, tell me about the making process of the EP, about the lyrics and the whole story behind it? Did you recorded it during the Covid-19 or before that period of time?
"Actually we didn't. It was supposed to happen that way but corona changed our plans, so we ended up releasing two singles instead of a full EP. We hope that the EP will be out this year. Until that moment you can check BLACK DIAMOND//SERENITY on all platforms."
2. Tell me more about your LP "World War 3", the deeper meaning of it, which message did you want to send to the audience back then – with this intriguing title? Is this record more relevant for this times in your opinion?
"Message we wanted to convey was that the world is constantly on the brink of the next world war. Although there is constant progress we as a civilization still haven't outgrown conflict, war, hunger and poverty. Which is really sad because we have all the resources we need to do so, but we just keep using them more toward killing each other rather then use them to help each other and transcend to the next step of civilization."
3. How do you feel about the whole pandemic – which is still present? Did the Covid-19 outbreak affected you and your band in social- but also financial ways, do you miss the social part, as well?
"Of course it did, it changed the way we live our lives. It affected us as a band, it affected our jobs and our financial situation as well it affected us on every level. We as a band live in 3 different cities and for some time it was almost impossible for us to meet and play or record. We actually recorded those 2 new singles in 3 separate studios due to the very same fact that at the time we weren't allowed to leave our place of residence. We miss the tours, we miss live shows and yes we miss the usual socials. It is weird to live kinda stripped like this. We are aware that this is pandemic and you need to be careful and considerate, but man do we miss the mosh pits and crowds. Hopefully we will be able to get back to that soon."
4. You played on the festivals like Wacken Open Air, Metaldays, Exit Festival and Hills of Rock – what experiences did you had on this festivals, which one of this festivals made the best impression on you?
"Each and every festival you listed was a great experience on their own. Those festivals are well oiled machines so our experience was great. Metaldays is a huge metal party that has amazing and chill metal atmosphere. Also it has a great location, right near Soča river and it's so cool to go sit on the beach after your show and just chill. Exit is a huge festival (it had around 120k people attending that year we played there) and it is like a giant party town. It had 25 different stages and wherever you go you run into people who are in a good mood and you can stay there and party to every type of music imaginable. Hills of Rock is a festival in Plovdiv, Bulgaria. It was a pleasure to be there, Everyone was so nice to us and to see that we have so many fans there was really heartwarming. That year headliners were Judas Priest and Iron Maiden. We planned our tour in a way so we could stay there on the festival grounds for 2 days so we managed to watch both Judas and Maiden play their sets. It was amazing ! Wacken, what can we say about that place that hasn't been said before already? 😀 It is one of the biggest and craziest festivals in the world. We hope we will play there again, because there is nothing that compares to getting on that stage."
5. Are you going to record a new fifth full LP record in 2021, maybe?
"That was the plan yes, but as we've mentioned before 2020 changed our plans somewhat. We will for sure put out EP this year and if this year treats us a bit better then the last one we might even be able to put out a full LP also. If not you can expect one in 2022."
6. Are you going to have a European tour in 2021, which places would you like to visit and held a concert, as well?
"We actually had a lot of shows booked for 2021 and we also had some festivals form last year that kept us on the bill, and we were looking forward to playing all those shows but it seems that this year will also be filled with cancellations. Because of that is really hard to say if we'll be able to hit the road and in what capacity."
7. How do you see the future of the metal/ rock, punk and hardcore community and the scene, what's your opinion about it, from your point of view?
"We see it thriving. Metal/rock , punk and hardcore will never die out. It will and is changing it's form and distancing itself a bit from the traditional norm but it will always be present. I mean Slipknot and Tool had a Billboard no 1 records not so long ago, so we believe it speaks for itself."
8. Would you consider maybe doing a cover record of some artists or a band – that your personally like and what band or an artists would it be?
"We definitely would. We had some talks about maybe doing something like that in the future. We are open to doing covers that range from Metallica, Iron Maiden, Slipknot, At the Gates, Dissection, BMTH all the way to Miley Cyrus."
9. Would you possible do a live-streaming show, if the Covid-19 pandemic continues in 2021?
"We might be doing something like that yes. Only thing we do believe is that it must be a unique experience. Just to stream a live set and not do anything unique with that is redundant in our opinion. That's the reason why we haven't done anything similar for now but in time who knows what we'll come up with :D."
10. For the last question of the interview, do you have a message for your fans and the audience?
"Support your favorite artist. Send them a message, share their songs, buy the merch. This is really fucked up time to be a musician and we chose this way of life because we love music and not because we are trying to get rich. That means that current circumstances are fucking us up badly but we still try to persevere and to put out new music so please show us some love. By us we mean all of us, bands that you love."
Links:
Check out their official and latest music video for the "Black Diamond // Serenity", here: