Artillery will release on November 16th their new release "The Face Of Fear" which is the successor to "Penalty By Perception" from 2016, via Metal Blade Records!
Statement of the Guitarist Michael Stützer about the new song:
"The story behind 'Pain' is a true story, about an alcoholic who was never listening to his friends or family when they tried to make him stop and quit drinking. And when he got to the point where he realized himself he had to stop it was too late and there was no way out anymore. The video for 'Pain' was recorded in Kolding and Randers by Morten Madsen (MSM production) who also directed our previous videos for 'Legions' and 'Live by the Scythe'."
"The Face Of Fear" is the band's 9th studio album and the third with the current line-up. The record contains nine brand new, straight-to-your-face songs. Make sure to surf over to metalblade.com/artillery where you can watch the video for the first single which is the title track "The Face Of Fear"! Check out the pre-order bundles, "The Face Of Fear" is available in these formats:
— ltd. Digipak-CD with 2 exclusive bonus tracks
— 180 g black vinyl
— opaque grey blue marbeld vinyl (ltd. 300 – EU-exclusive)
— golden yellow blue marbled vinyl (ltd. 200 – EU-exclusive)
— blue green / white splattered vinyl (ltd. 100 – EMP-exclusive)
— blue/black marbled vinyl (ltd. 300 – US-exclusive)
The lyrics are Artillery as you know them, with subjects concerning the destruction of mankind, double standards, abuse and the looming worst-case scenario. "The Face Of Fear" was recorded with long-time producer Søren Andersen at Medley Studios. It's Søren's fifth time at the helm and once again he manages to deliver a monster production.
Sören Andersen  states this about their new upcoming release on "The Face Of Fear":
"Pure and raw! Some of the material of this album was originally written in the early 80's and that inspired us to go old school this time. Not too many layers, just classic Artillery thrash metal… And Bastholm is better than ever on this one. This is a no-filler album, created together with the band. I'm really proud of the final result and I hope everyone will enjoy it as much as I do!"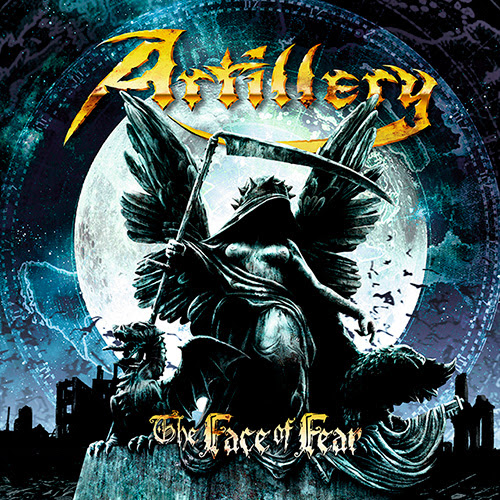 Tracklist:
1 The Face of Fear
2 Crossroads To Conspiracy
3 New Rage
4 Sworn Utopia
5 Through The Ages Of Atrocity
6 Thirst For The Worst
7 Pain
8 Under Water (instumental)
9 Preaching to the converted
10 Mind Of No Return (ltd. 1st ed. bonus track / re-recorded song from Artillery's first demo from 1982)
11 Doctor Evil (ltd. 1st ed. bonus track / 2018 version)
Since the last album "Penalty By Perception", which won the band four Danish Metal Awards 2016 (Best album, best band, best production and Honorary prize), Aetillery has toured around the World, including Europe, South America and parts of Asia. In the rest of 2018 there will be time for Copenhell's Metal Cruise and a Denmark tour, with a release party on High Voltage. 2019 will include tours in Europe, South America and USA.

Line-up:
Michael Bastholm Dahl – vocals
Michael Stützer- guitars
Morten Stützer – guitars
Peter Thorslund – bass
Joshua Madsen – drums

European tour dates:
09/11/18 DK – Copenhagen – High Voltage (album release show)
24/11/18 DK – Odense – Metal Mekka
07/12/18 DK – Herning – Fermaten
22/05/19 AT – Wien – Viper Room
23/05/19 CZ – Kyjov – RocknRolla
24/05/19 CZ – Mlada Boleslav – Fararova Sluj
25/05/19 CZ – Brno – Unleaded Coffee
Links:
Facebook:https://www.facebook.com/ARTILLERY.DK
Website:http://www.artillery.dk/
Twitter:http://twitter.com/artillerymetal
Check out the music video for the song called "Pain" here, enjoy it: