The dramatic and cinematic song "Masters Of Destiny" is the first track from Delain's upcoming release "Hunter's Moon". It is one of the four brand new studio tracks that are part of the stunning live album and BluRay, which will be released on February 22nd via Napalm Records.
Delain travelled to Iceland to underline the mystic that lies within the brand new single accompanied by a breathtaking video "Masters Of Destiny."
The band states this about the new music video and the song:

"This is an exciting release for us, and a special one too on account of the fact that we chose one of our more elaborate and unconventional compositions for our first single, showcasing another side of ourselves as a band. We wanted to make the video like an extension to the music; to match the orchestral, instrumental and vocal bombast of the song with visuals of nature in all its grandeur, and we found the perfect backdrop for this in beautiful Iceland. We are very proud to present to you the music video for our brand new track Masters of Destiny. We hope you enjoy the journey.
"Hunter's Moon" is a thrilling live album, accompanied by a live BluRay from their sold out "Danse Macabre tour" across Europe in 2017, which featured multiple guest musicians including Nightwish's Marco Hietala. It is the final in the trilogy that started with their EP "Lunar Prelude" and their full album "Moonbathers" in 2016. It is now available for pre-order everywhere!
Pre-Order for the "Hunter's Moon" is available HERE.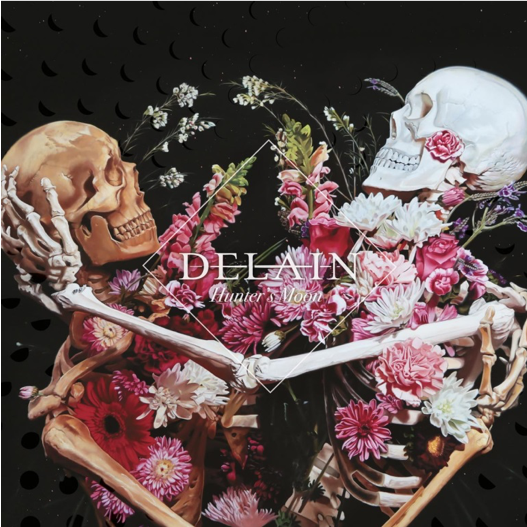 Brand new studio songs:
1. Masters Of Destiny
2. Hunter's Moon
3. This Silence Is Mine
4. Art Kills
Live From Utrecht:
5. Hands Of Gold – Live (feat. George Oosthoek)
6. Danse Macabre – Live
7. Scarlet – Live
8. Your Body Is A Battleground – Live (feat. Marco Hietala)
9. Nothing Left – Live (feat. Marco Hietala)
10. Control The Storm – Live (feat. Marco Hietala)
11. Sing To Me – Live (feat. Marco Hietala)
12. Not Enough – Live
13. Scandal – Live (feat. Marco Hietala)
14. The Gathering – Live (feat. Marco Hietala)
"Hunter's Moon" is available in the following formats:

CD + Blu-Ray Disc, including 6-page Digipack
2LP Gatefold + Blu-Ray Disc
Deluxe Box incl. CD + Blu-Ray Disc Digipak + poster flag + pendant + patch + lanyard/VIP pass
Digital Album

Line-up:
Martijn Westerholt – Keyboard
Charlotte Wessels – Vocals
Joey Marin de Boer – Drums
Otto Schimmelpenninck van der Oije – Bass 
Timo Somers – Guitar
Merel Bechtold – Guitar
Links:
Website: http://delain.nl/
Facebook: https://www.facebook.com/delainmusic/
Twitter: https://twitter.com/delainmusic
Instagram: https://www.instagram.com/delainofficial/
Check out the official music video for the song called "Masters Of Destiny" here, enjoy it: