"Támsins likam", the 2018 release by Faroese doom band Hamferð has been nominated for the Nordic Council Music prize. Following their previous two albums (2010 and 2013) the release of "Támsins likam" completes a trilogy which has been almost a decade in the making. Although consisting of six tracks, "Támsins likam" is conceived as one whole, where each song complements and supports the others in various ways.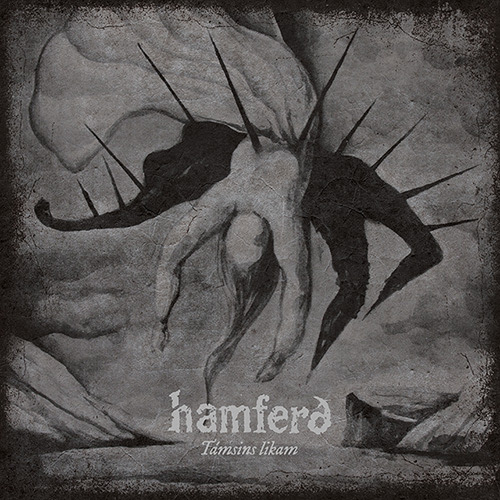 With every completed work, Hamferð has successfully integrated old Faroese singing traditions into a contemporary musical language, and with "Támsins likam", the band's high level of musical and technical skill has been even further refined, resulting in a piece of musical art that has appealed to an audience far beyond the realm of the doom metal scene.
The band stated this about the new release:
"Támsins likam was always intended as one cohesive piece of music, so we are delighted that it has been considered for such a prestigious award in the category of composition. This honor indicates to us that we have managed to communicate our musical and conceptual ideas in a way which is meaningful to people. That is truly a beautiful encouragement to receive."
The Music prize for creative and practical music was established in 1965 and was originally awarded every third year to a composer from one of the Nordic countries. Since 1990 the prize has been awarded every year alternately to a living composer and to individual artists or groups. In 2018 prize will be handed out to a living Nordic composer. The winner of the 350.000 DKK Music prize will be announced in Oslo on October 30th.
"Támsins likam" has been released in January via Metal Blade Records! Please surf over to metalblade.com/hamferd to check out music and videos from the album.
Line-up:
Jón Aldará – Vocals
John Egholm – Guitar
Theodor Kapnas – Guitar
ísak Petersen – Bass
Esmar Joensen – Keyboards
Remi Johannesen – Drums
Festival dates:
13/07/18 – FO – Syðrugøta – G! Festival
18/08/18 – NO – Borre – Midgardsblot
05/10/18 – DE – Paderborn – Metal Inferno
06/10/18 – BE – Saint-Georges-Sur-Meuse – From Dusk Till Doom
16/05/19 – IS – Reykjavík – Metalfest
Links:
Website:http://hamferd.com
Facebook:https://www.facebook.com/Hamferd
Instagram:https://www.instagram.com/hamferdofficial
Youtube:https://www.youtube.com/hamferdofficial