Faroese doomster Hamferð have released a live recorded video of "Stygd", the 2nd song from their new album "Támsins likam", released on Metal Blade Records earlier this year. The song is part of the recorded album release show on 17th March 2018 at the old Sjónleikarahúsið theater in Tórshavn, Faroe Islands.
"Támsins likam" was played in its entirety, as well as a selection of Older songs, including "Ódn"; the band's very first song, which, although being a live staple, was never released.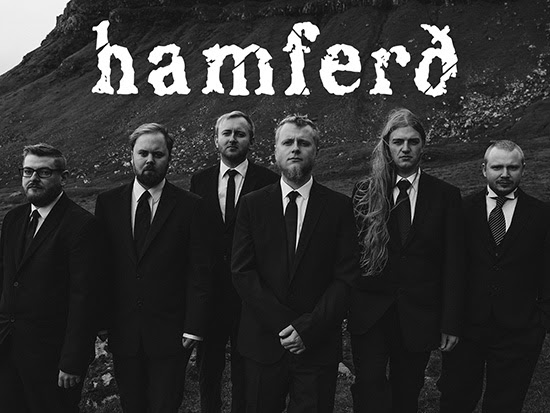 Singer Jón Aldará states this about the song and the live music video:
"This concert was a meticulous production in regards to performance, sound and lighting, and we felt it was the perfect opportunity to record it properly. It's a great feeling to have a live recording of Hamferð that does not come from an iPhone or from a festival production that we had little to no control over. We took everything in our own hands and went the whole nine yards with a brilliant crew, well-considered stage design and all the high-end equipment we could get our hands on. Luckily, I really think it shows!"
European tour dates:
02.10.2018 DE – Stuttgart, Club Zentral (w. Egonaut)
03.10.2018 DE – Leipzig, Hellraiser (w. Egonaut)
04.10.2018 DE – Hamburg, Bambi Galore (w. Egonaut)
05.10.2018 DE – Paderborn, Metal Inferno Festival
06.10.2018 BE – Saint Georges, From Dusk til Doom 4
07.10.2018 NL – Tilburg, Little Devil
Additionally, Hamferð will head on a tour of Scandinavia in December, notably playing Sweden for the first time in their 10-year long career. The dates are:
Hamferð with Svartmálm tour dates:
05.12.2018 DK – København – Beta 2300
06.12.2018 DK – Odense – Posten
07.12.2018 SE – Göteborg – Sticky Fingers
08.12.2018 NO – Oslo – Revolver
09.12.2018 NO – Trondheim – Hjorten Scene
"Támsins likam" has been released in January via Metal Blade Records! Please surf over to metalblade.com/hamferd to check out music and videos from the album.
Line-up:
Jón Aldará – Vocals
John Egholm – Guitar
Theodor Kapnas – Guitar
Ísak Petersen – Bass
Esmar Joensen – Keyboards
Remi Johannesen – Drums
Photo by Beinta á Torkilsheyggi
Links:
Webiste:http://hamferd.com
Facebook:https://www.facebook.com/Hamferd
Twitter:https://twitter.com/hamferd
Instgram:https://www.instagram.com/hamferdofficial
Youtube:https://www.youtube.com/hamferdofficial
Check out the live music video for the song "Stygd" here, enjoy it: