Imperium Dekadenz have been the victim of Mexican plagiarizers ISON (not to be confused with the Swedish Ison). Not only did the band perform official tracks from Imperium Dekadenz under their own flag, they also planned to release Imperium Dekadenz's entire full length "Meadows of Nostalgia" under the false name of "The Outsiders". The Mexican exploiters did not even bother to re-record their theft but were under the impression that a simple song name-change would do the trick.
The band stated this about the whole story:
"Hello everyone,During our conquest with Imperium Dekadenz, we have seen and witnessed about everything that is imaginable – but what we have encountered now sinks brazenness to a new low. The lame plagiarizers of the Mexican band ISON are obviously trying to desperately build their "career" by using OUR songs! These beggars believe, but this "band' ' does not only try to play Imperium Dekadenz songs under false flag live, but they even released an album called 'The Outsiders', which features our original recordings! They now deleted their Facebook-Page and most of the YouTube videos, but they will not stop performing live. They are cheating on you and the whole metal-scene!
A warning to those shameless exploiters of our creativity and liars, Ison:
Don't mess around with Imperium Dekadenz! Our label and lawyers are informed. Your time is up! We will make sure, your fraud will be exposed. To our supporters and everyone who believes in art: Please let them know your thoughts on the theft of intellectual property! Spread the word!"
Thank you for your attention!
Horaz & Vespasian
Imperium Dekadenz
Imperium Dekadenz are playing live in support of their latest full-length, "Dis Manibvs". The artwork of the band's fifth album has been created by Francesco De Luca and can be viewed below.
Tracklist:
01. In Todesbanden
02. Only Fragments Of Light
03. Still I Rise
04. Dis Manibvs
05. Pantheon Spells
06. Vae Victis
07. Volcano
08. Somnia
09. Pure Nocturnal Rome
10. Seikilos
On the previous news, critically acclaimed open-world RPG, Kingdom Come: Deliverance has picked the title track of Imperium Dekadenz' second album, ''Dämmerung der Szenarien" (2007) for its soundcheck under the new name "Thru the Fog of Time".
 Drummer Vespasian stated this about the whole story:
"We are extremely stoked to be part of the soundtrack of Kingdom Come: Deliverance, which was developed by Warhorse Studios. It has given us a chance to have our music heard around the globe and we are thankful for all the kind praise that we have received for 'Thru the Fog of Time' that was written and recorded in 2007. Exciting times."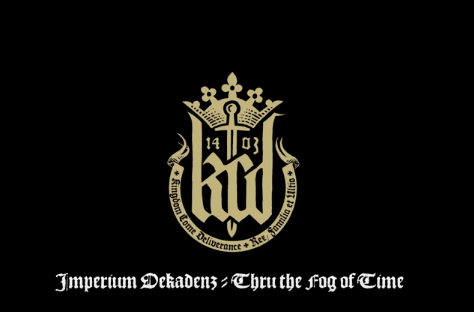 Tour dates:
26 Oct 18 Wien (AT) Escape
27 Oct 18 Klagenfurt (AT) Follow the Goat
17 Nov 18 Radolfzell (DE) s'Bockle
01 Dec 18 Tübingen (DE) Epplehaus
Vae victis! Woe to the vanquished! Imperium Dekadenz hail from Germany's Black Forest, where the Roman Empire clashed, conquered, and finally fell against first Celtic and later Germanic tribes. Its impenetrable, murky, and mysterious fog ridden woods and harsh landscapes have given rise to a dark romanticism that even imbues the works of this band with deep roots in Nordic black metal.
Imperium Dekadenz have cultivated and advanced an atmospheric style of their own with their highly acclaimed third and fourth studio albums "Procella Vadens" (2010) and "Meadows of Nostalgia" (2013). The dark chasms and steep rises of the Black Forest mountains are echoed within the German duos' majestic melodies, which are contrasted by interludes of often fragile acoustic parts.
With their new full-length "Dis Manibvs''  a title derived from antique Roman grave markers translating from Latin as "To the Spirits of the Dead" and basically meaning "In Remembrance" Imperium Dekadenz take a surprising step in their evolution by adding an expression that is probably best compared to Deafheaven and Der Weg  Einer Freiheit. Probably even more astonishing is how well and organically the German veterans integrate this sound with seeming ease into their already existing style, which has also been likened to Winterfylleth and Agalloch in its more epic moments and MGŁA or Wolves In The Throne Room during harsher parts – to drop but a few suitable names.
Founded in the year 2004, Imperium Dekadenz quickly gained a dedicated following with their debut ''…und die Welt ward kalt und leer" (2006) as well as its follow-up "Dämmerung der Szenarien" (2007). Lyrically, Imperium Dekadenz clad metaphors of human transience, ashes, and shadows into an antique attire with a penchant for the Roman Empire, while declining to deal with genre typical political, religious or misanthropic themes.
Imperium Dekadenz breaks new ground with their forthcoming masterpiece "Dis Manibvs", an album that has the potential to unite traditional as well as progressive black metal adherents together in well-deserved praise – which would mark an astonishing achievement in itself. Judge for yourself!
Line up:
Vespasian: drums, e-guitar, acoustic guitar, bass, synthesizer
Horaz: vocals, e-guitar, synthesizer
Available formats:
CD Digipak with bonus DVD
Gatefold double LP in various colors
Links:
Website:www.imperium-dekadenz.de
Facebook:www.facebook.com/ImperiumDekadenz
Shop: http://smarturl.it/ImpDekDisManibvs
Booking: tr@kingstar-music.com & id-mail@online.de