Epic Melodic Death Metallers Nothgard released their 2nd music video for the song "Epitaph" has the support, for their upcoming new album "Malady X".
Frontman Dom R. Crey states this about the new music video and the song "Epitaph":
"The first single 'Malady X' is out for three weeks now and we are super happy about all the amazing feedback. The time has come to unleash the second single and music video, this time in 4k quality! "Epitaph" is a very special song for me. Based on the concept of constant struggle in a world where all of us need to find their places. Sometimes this can be tough and very often some of us have the feeling of not being part of this world – or do not even want to be part. Songwise 'Epitaph' is one of my favorite tracks on this album. But before I tell too much I would rather recommend you to check out the video and song."
Afterward, click metalblade.com/nothgard to check out the stunning video for the title track "Malady X". Make sure to check out the pre-order section as well, "Malady X" will be released on October 26th and is available in the following formats:
– ltd. ed. metallic boxset (incl. ltd. Digi-CD, excl. bonus-DVD, hand-signed photo cards, miniature guitar, patch, numbered certificate, possible golden ticket to win studio gear of Dom R. Crey / ESP LTD EC 1000)
– ltd. ed. Digi-CD with 2 excl. bonus tracks
– 180 g black vinyl
– dead-gold marbled vinyl (limited to 200 copies – EU exclusive)
– light-grey marbled vinyl (limited to 200 copies – EU exclusive)
– red/black marbled vinyl (limited to 120 copies – EMP exclusive)
– clear/black marbled vinyl (limited to 100 copies – US exclusive)
Nothgard have recorded "Malady X" at the bands own Def-Creation and & Southern Deathcult studios and called the renowned Jens Bogren (Amon Amarth, Arch Enemy, Kreator, Opeth, a.o.) for mastering duties. The result is an album full of melodic yet epic melodic death metal anthems!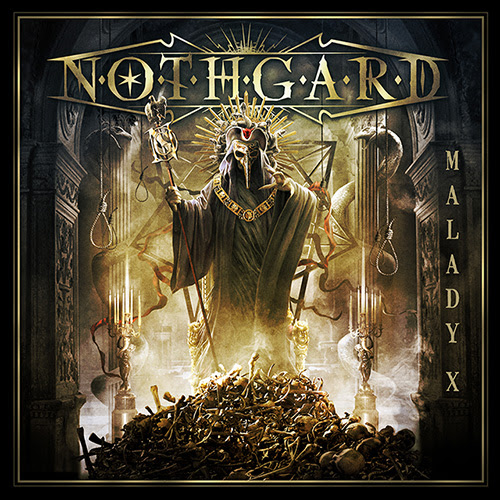 Tracklist:
1. Voyage To Decay (Intro)
2. Malady X
3. Shades Of War
4. Guardians Of Sanity
5. Epitaph
6. Deamonium I
7. Serpent Hollow
8. Devil Will Know
9. Fall Of An Empire
10. Herald Of Death
11. Black Horizon
12. Eye For An Eye (ltd. Digi-CD bonus)
13. Ninja (ltd. Digi-CD bonus)
Nothgard will play special release shows the end of October and invited their friends Parasite Inc. to take part on those events.
Nothgard with Parasite Inc. tour dates:
26/10/18 DE – Jena – F-Haus
27/10/18 DE – Markneukirchen – Warwick Music Hall
28/10/18 DE – Ingolstadt – Eventhalle Westpark *with Equilibrium
31/10/18 DE – Lindau – Vaudeville
01/11/18 AT – Vöcklabruck – Okh
In other news, Nothgard will join forces with Finnish Epic Melodic Death Metallers Omnium Gatherum and Wolfheart for the "Burning Cold Over Europe 2018" tour.
Omnium Gatherum with Wolfheart and Nothgard tour dates:
07.11.2018 Munich (Germany) – Backstage
08.11.2018 Hamburg (Germany) – Kaiserkeller
09.11.2018 Berlin (Germany) – Bi Nuu
10.11.2018 Stuttgart (Germany) – ClubCANN
11.11.2018 Prague (Czech Republic) – Nova Chmelnice
12.11.2018 Budapest (Hungary) – Dürer Kert 041
13.11.2018 Vienna (Austria) – Szene
15.11.2018 Essen (Germany) – Turock
16.11.2018 London (United Kingdom) – The Dome
17.11.2018 Rotterdam (Netherlands) – Baroeg
18.11.2018 Vosselaar (Belgium) – Biebop
19.11.2018 Paris (France) – Le Petit Bain
21.11.2018 Madrid (Spain) – Copérnico
22.11.2018 Barcelona (Spain) – Bóveda
23.11.2018 Lyon (France) – MJC O Totem
24.11.2018 Lucerne (Switzerland) – Schüür
25.11.2018 Trier (Germany) – Mergener Hof
Line-up:
Dom R. Crey – Vocals, Lead Guitar, Studio Keyboards
Skaahl – Guitars
Nico Kolja – Bass, Backing Vocals
Felix Indra – Drums
Links:
Facebook:https://www.facebook.com/Nothgard
Twitter:https://twitter.com/nothgard
Instagram:https://www.instagram.com/nothgard
Website:http://www.nothgard.com
Check out the new music video for the song "Epitaph" here, enjoy it: