When  Sólstafir asked their friends and label mates,  Árstíðir to join them on their current European tour, the Icelanders had, of course, no strings attached. As it turns out, there are some keys in it though…
Árstíðir keyboarder Ragnar Ólafsson has happily accepted to give a helping hand or rather two to the enigmatic Icelandic rockers. This is, of course, a temporary arrangement, so don't miss your chance to see this special touring line-up on the road right now.
As shows have already been sold out and tickets are running low in others venues, we strongly recommend booking in advance.
Sólstafir has successfully embarked on the second leg of their 2017 European tour. The enigmatic Icelandic rockers have been joined by Myrkur and Icelandic label mates Árstíðir. The final curtain of this massive journey will fall at Debaser Strand in Stockholm, Sweden on the 20th of December.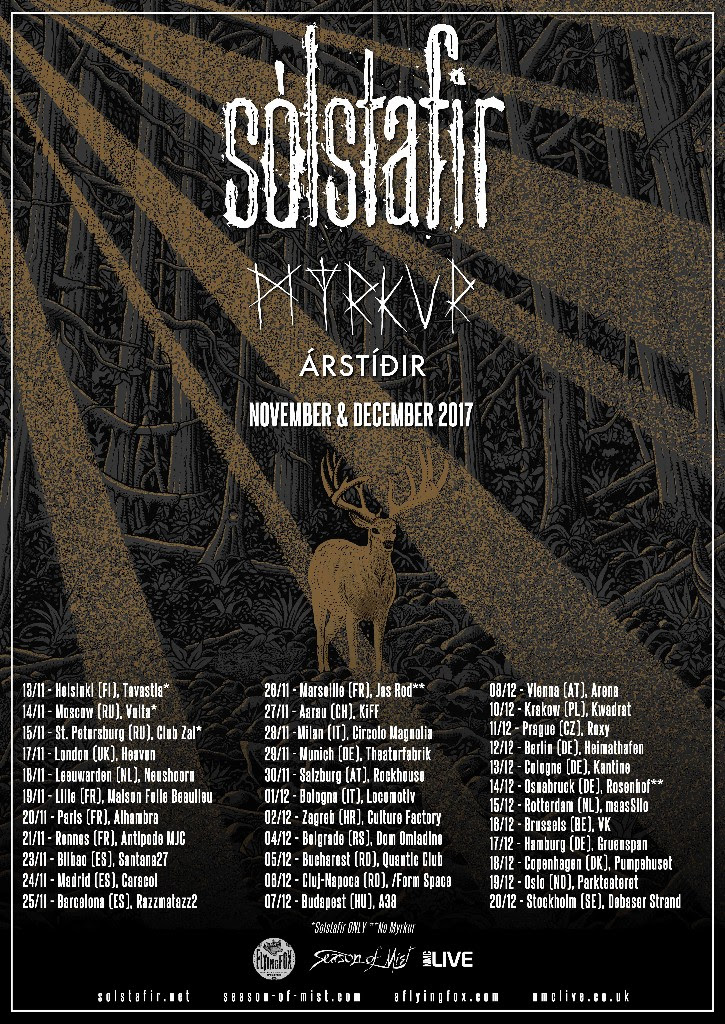 Sólstafir tour with Myrkur and Árstíðir:
23 Nov 17 Bilbao (ES) Santana27
24 Nov 17 Madrid (ES) Caracol
25 Nov 17 Barcelona (ES) Razzmatazz2
26 Nov 17 Marseille (FR) Jas Rod (without Myrkur)
27 Nov 17 Aarau (CH) Kiff
28 Nov 17 Milano (IT) Circolo Magnolia
29 Nov 17 München (DE) Theaterfabrik
30 Nov 17 Salzburg (AT) Rockhouse
01 Dec 17 Bologna (IT) Locomotiv
02 Dec 17 Zagreb (HR) Cultura Factory
04 Dec 17 Belgrade (RS) Dom Omladine
05 Dec 17 Bucuresti (RO) Quantic Club
06 Dec 17 Cluj-Napoca (RO) Form Space
07 Dec 17 Budapest (HU) A38
08 Dec 17 Wien (AT) Arena
10 Dec 17 Krakow (PL) Kwadrat
11 Dec 17 Praha (CZ) Roxy
12 Dec 17 Berlin (DE) Heimathafen
13 Dec 17 Köln (DE) Kantine
14 Dec 17 Osnabrück (DE) Rosenhof (without Myrkur)
15 Dec 17 Rotterdam (NL) Maassilo
16 Dec 17 Bruxelles (BE) VK
17 Dec 17 Hamburg (DE) Gruenspan
18 Dec 17 København (DK) Pumpehuset
19 Dec 17 Oslo (NO) Parkteateret
20 Dec 17 Stockholm (SE) Debaser Strand
Season of Mist Records recently announced the signing of eclectic Icelandic independent/folk rock act Árstíðir  .
Árstíðir have emerged from the burgeoning Icelandic music scene in 2008 when the three founding members coming from different genres discovered their mutual love for vocal harmonies. Daniel, Gunnar, and Ragnar quickly went from playing acoustic cover versions to their own sonic footprint amalgamating influences from classical, folk, rock, and minimalist music into something quite unique, which might be carefully dubbed "Icelandic independent".
With early lyrical references pointing towards the spectacular nature and scenery of this volcanic island and the strongly contrasting moods of its seasons, the band took the name Árstíðir , which means "seasons" in their native Icelandic tongue.
At home, the band experienced a fast rise. Only four months after their conception, Árstíðir had risen from performing in a coffee shop in Reykjavik to scoring a number one hit on national radio with the track "Sunday Morning".
The Icelanders published their eponymous debut, 'Árstíðir' in summer 2009, and while their home country was reeling from the market crash, the bands stocks went up. During the air traffic disrupting eruption of the Eyjafjallajökull volcano. a first international tour started that led to Árstíðir continuing to tour relentlessly over the next years and gather a dedicated fan base in more than 30 countries.
Their second album, 'Svefns Og Vöku Skil' followed in 2011 and only a year later, the Icelanders won the prestigious Eiserner Eversteiner European Folk Music Award in Germany. While on the road in Germany in 2013, a friend of Árstíðir recorded an impromptu performance of the old Icelandic hymn, "Heyr Himna Smiður" in a train station, which went viral on YouTube and has attracted more than 6 million views by now.
Backed by global interest sparked by this viral hit, Árstíðir continued their headlining tours and furthermore supported Swedish band Pain of Salvation and Dutch vocalist Anneke van Giersbergen.
Árstíðir launched a highly successful crowdfunding campaign in 2014 to finance the recording of their third full-length "Hvel", which translates as "spheres" and following its release, the band embarked on a first US tour that reached from coast to coast.
A collaboration with Anneke Van Giersbergen followed in 2016. The album, "Verloren Verleden" contains a collection of re-imagined traditional and classical songs.
Currently,  Árstíðir are working on their forthcoming fourth album, which will be released through Season of Mist Records worldwide in 2018.