Swedish Death Metal legends The Crown have returned to Metal Blade Records for multiple album deal!
Statement of the band about the album deal:
"We are very honored to be back working with the label that supported us through many albums. The biggest "steps" during our career have been thanks to Metal Blade. We have always had a strong mutual will to make the best possible albums. Now let's fire up this Death Metal engine again!"
The Crown has just finished recording their new, yet untitled long player at Studio Fredman and the record promises to be one of the biggest surprises of the upcoming year. A return to Death Metal speed and darkness in full glory!
Metal Blade Records will release "Iron Crown", the 1st single of the upcoming album, as a limited 7″ on January 12th.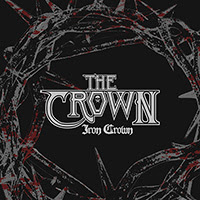 The B-side features the exclusive new song "Ride The Fire" (not to be featured on the long player). The "Iron Crown 7″ will be released in these colors: black (300 copies), silver (200), red transparent (100) and can be pre-ordered from EMP and our eBay-store!
The Crown line-up:
Johan Lindstrand – Vocals
Magnus Olsfelt – Bass
Marko Tervonen – Guitar
Robin Sörqvist – Lead guitar and backing vocals
Henrik Axelsson – Drums
Links:
Webisite:http://www.thecrownofficial.com
Facebook:https://www.facebook.com/thecrownofficial
Twitter:https://twitter.com/thecrownsweden
Youtube:https://www.youtube.com/user/thecrownsweden
Check out a video teaser of the song "Iron Crown"here, enjoy it: