The Australian deathcore band Thy Art Is Murder will perform for the first time in Serbia in Belgrade, at club Electropionir on July 9th. This will be the night of the pure death destruction, these three bands are going to spin your head around for eternity, don't miss the show of these three great bands.
The band released their latest release "Dear Desolation" as a fourth studio album via Nuclear Blast Records.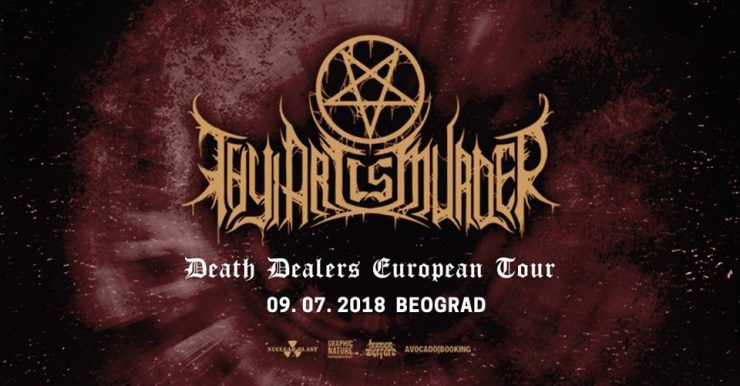 The support acts for the show will be Serbian melodic death metal band Nemesis and Serbian hardcore band Y.O.X.
About Nemesis:
Nemesis is formed by 5 girls, Sanja Drca – vocals, Aleksandra Petrovic and Tijana Milivojevic on guitars, Anja Tvrtkovic on bass guitar and Selena Simic for drums. For the past two years, they have actively promoted their author's work inspired by the bands of Arch Enemy, Death, In Flames, Kreator. In addition to numerous performances in Serbia, they had remarkable performances in Ljubljana at the "Day of Rock Women" Festival and at this year's Demofest in Banja Luka in front of 5000 people. Their performance is characterized by melodic riffs, a strong rhythm of the sections as well as the raw energy that this five has. So far they have released two singles, "Vengeance" in the form of the video clip and "Divine Retribution" as a lyric video. They are currently in the stage of recording and publishing new singles and spots, and they hope the album's debut will be released next year. The inspiration for texts is in the 21st-century problems, such as capitalism and globalization, but also in philosophical themes. Now they have a new bassist Biljana Sovilj because Anja Tvrtkovic left the band.
Check out their music video for the song "The Uprising" here, enjoy it:
Check out the music video of the Y.O.X for the song "Blind Obedience" here, enjoy it:
Check out the official music video for the "The Son of Misery" here, enjoy it:
The event is organized by the MTA Promotion concert agency. The tickets for the concert will cost 1000RSD and on the day of the concert, you must pay additional 400RSD, so the price will be 1400RSD. The card limitation is 200 cards only, and you can buy them at Felix shop in Belgrade.
For more information, go to the official Facebook event.
Links:
Facebook of the Thy Art is Murder: https://www.facebook.com/thyartismurder/
Facebook of the Y.O.X: https://www.facebook.com/yoxmetal/
Facebook of the Nemesis: https://www.facebook.com/girldeathmetal/
Facebook of the label: https://www.facebook.com/nuclearblasteurope/
Facebook of the organization for the concert: https://www.facebook.com/search/top/?q=mta%20promotion